It is not enough to be compassionate, you must act- Dalai Lama
The quote rings true for today's times when India and several other parts of the world are in lockdown due to the coronavirus pandemic. The lockdown has been particularly harsh on the nation's poor migrant workers, who are struggling to make ends meet, reliant on assistance from the government and philanthropic social service workers. Amongst those philanthropists is Kings XI Punjab's Tajinder Singh, who helped provide food and water to over 10000 migrant workers.
A little over a week ago, Tajinder happened to glance at a local news channel while having his dinner, only to understand the true gravitas of the migrant exodus from the cities towards their villages. Watching the plight of the migrant workers, Tajinder took it upon himself to help the needy migrants who were walking back to their villages in the summer heat without proper protection.
"The main highway towards Kanpur is about 100 meters from my house, and the people on the news spoke about that route being used by migrant workers who are moving out of Delhi," starts off Tajinder. "I told my family members that all of us should collectively help these migrant workers, many of whom were walking without chappals. I then called my friends who live in the vicinity and we planned out on how to distribute food to the migrants," added Tajinder.
"A gentleman in our locality has a vegetable business so I requested him to give me potatoes in bulk for making the sabzi. We also got 50 kilos of wheat flour which we distributed equally to a lot of households in my colony so that they can make the chapatis. By the end, we had about 1400 chapatis ready for distribution," added Tajinder.
The KXIP all-rounder also got in touch with the local police station, informing them about the plan to distribute food to the needy. The policemen helped organise the crowds and maintaining social distancing as much as possible as Tajinder and his friends distributed the food to the walking migrants.
"The first day we fed around 1000 migrants, the next couple of days that number rose to 5000, which included so many young children. Alongside feeding them aloo-puri, we also gave them milk and meetha paani (sherbat).
"We have been distributing food for five straight days now. There were fewer people on the road today, so we gave the food to the buses that were ferrying the migrants back to their hometowns," added Tajinder.
In the blood
"To be frank, service to the needy is in our blood, its part of the Sikh culture and tradition. We can't see people suffering and not act on it," said Tajinder Singh, speaking on his motivation to help out the poor migrants.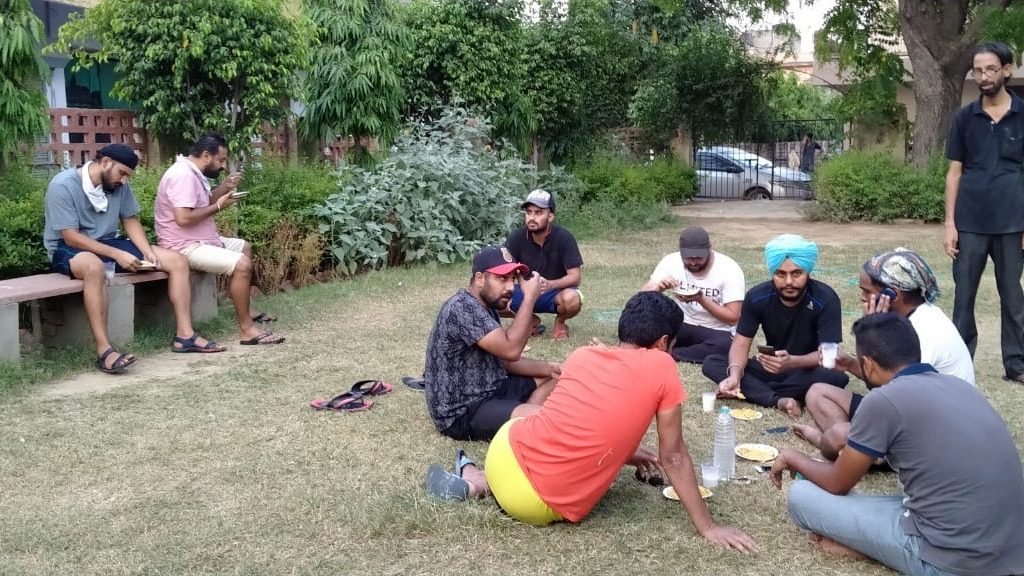 "We organise a couple of events every year where we donate food to the poor for two-three days. Me, my brother in law Inderjit Singh, my academy coach Sarvesh Bhatnagar and friends Jitendra Singh Angy, Ashish Khatri, Raman Joshi, Preetpal Singh Dhillon and 10 others have been doing things like this for a while now. We are not affiliated to any NGO, nor do we publicize about this in the newspapers, we just do this as a philanthropic act so that we can bring happiness to a few people," added Tajinder.
"After starting this donation drive, I haven't met my parents also for the last few days now. As soon as I reach home, I immediately go to the bathroom to take a shower, and stay in my room as much as possible to avoid physical contact with my parents," explained the off-spinner.
Tajinder's selfless sacrifice has aided thousands of migrants in their journey, making it a little less cumbersome. The cricketer from Rajasthan however sees his efforts merely as a seva towards the less fortunate ones, and is happy to have helped in his small way in the fight about Covid-19.
"There is a lot of negativity around us, many industries have been affected by the lockdown but nevertheless my message to all would be to stay positive as much as possible and follow the government orders.
"Focus on lives over livelihood at this point. If we survive this, we will be ready to tackle any challenge tomorrow," said Tajinder Singh before signing off.