From a family that played cricket and didn't quite succeed, it would have been a nervy situation for Harpreet Brar when he knew that he had to make an impact in the Under-23s last year. For him, it was the last chance to perform to take the step up, failing which he would have to start from beginning again, and that would have been tougher.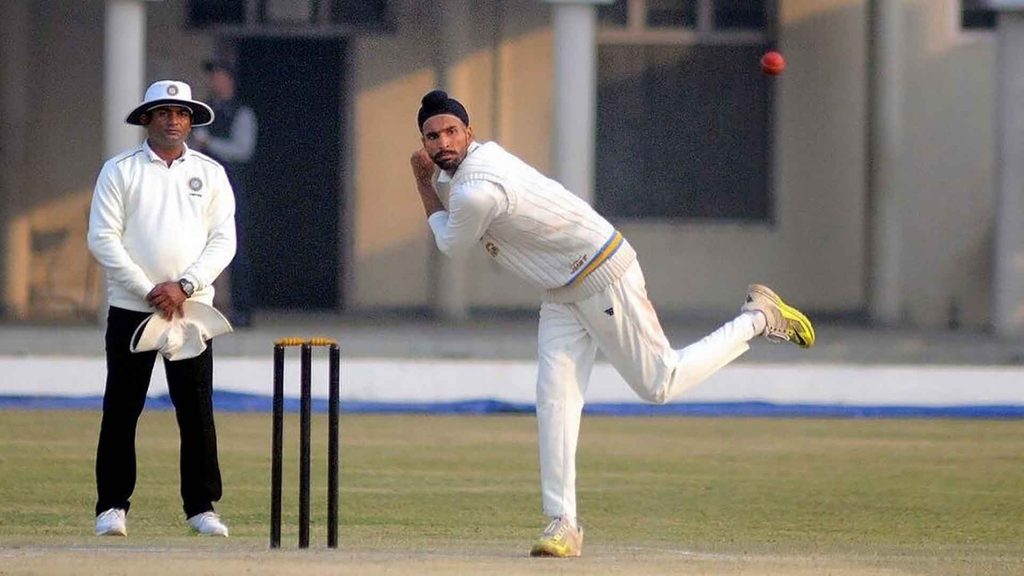 "All my cousins used to play the sport but had to stop due to financial difficulties," says Harpreet Brar. "When you're from a middle-class family and you reach your mid-20s, everyone expects you to have a stable, full-time job because you need to be running the household too.
"So, the decision in front of me was either join the Punjab police force like my father or move to Canada on a study visa," he reveals. But Brar decided to dedicate one more year to cricket, in the hope of bagging a VIVO Indian Premier League contract or a place in the Punjab senior team.
Despite getting selected for the Punjab U-15 team and playing admirably in several club competitions, Brar was initially finding it difficult to break into the higher echelons of state cricket. He also gave his trials for the Mumbai Indians for the past two seasons but was unable to make the grade.
But then former Kings XI Punjab and India cricketer Gurkeerat Singh Mann helped him get a place in the Mohali district team, from where Harpreet jumped into the Punjab senior team. Things were tough through the journey though.
"The bats were expensive, so we had to make them last longer by threading it. Or hope that a senior hands one down. One-time Gurkeerat paaji gifted me one," he points out.
Family ties
It didn't help that his relatives didn't make much of his career choices either.
"Whenever my mummy used to tell me to get ready to go to a marriage, I used to protest," he explains. "Because there they ask what your son does, and then she say he plays cricket. 'Cricket? The whole world plays cricket, nothing will come of it' they taunted.
"That just encouraged me though, pumped me up just because they said these things and I wanted to prove them wrong!"
Harpreet had the fortune to be supported by his immediate family. His father was in the army for over two decades, but despite his absence his mother made sure he was well looked after.
"I remember going to the market where I saw this flyer about a cricket academy stuck on a wall," he recounts. "I got it home and told mummy that I wanted to learn cricket. We went there and she said 'See, you can join if you wish, but only if you put your heart into it.'
Another feather in the cap, Harpreet Brar the 23-year -old son of a driver with Punjab Police bags a place in Kings XI Punjab. Picked up for Rs 20 lac in the IPL auction, the young lad brings laurels to the law enforcing agency.#IPL2019 #PunjabPolice pic.twitter.com/2KYFusOaT1

— Punjab Police India (@PunjabPoliceInd) December 21, 2018
"Even my father was supportive. He came from village himself and rose through the ranks. He said he had nothing but now has a house and he told me that I should make a bigger house than his.
"So, when I got picked by Kings XI Punjab, my papa called, and he broke down in tears of joy saying now people on the streets will start recognizing him as Harpreet's dad."
Harpreet's journey may have been riddled with challenges, but he has made sure he has met them head on - be it enduring the lack of opportunity or facing relatives who didn't show enough faith. It's little wonder why Kings XI Punjab picked him for the 2019 VIVO Indian Premier League.