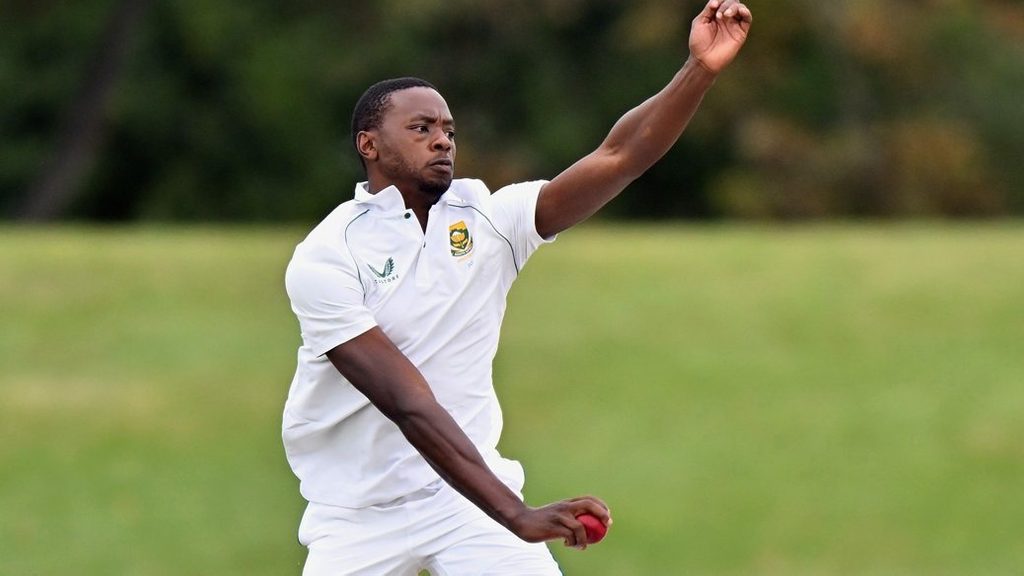 South Africa brushed aside last week's disappointment with a thumping 198 run victory in the second and final Test against New Zealand at the Hagley Oval in Christchurch. Their triumph was aided by an all-round performance from senior pacer Kagiso Rabada, who was instrumental with both bat and ball in the Proteas' victory, earning him a Player of the Match accolade.
Dean Elgar's side won the toss and set up a first innings total of 364, and that was expertly followed up by Rabada when he got his chance with the ball. He was the first to make an impact, taking out opener and New Zealand captain Tom Latham just four balls through the second innings. Three overs later, Latham's opening partner, Will Young, also fell to Rabada's magic, leaving the team reeling at 9/2.
After the initial damage, Rabada picked three more wickets to finish the innings with numbers of 19-3-60-5. If this man was the Destructer-In-Chief, Marco Jansen was his deputy, picking four wickets to reduce New Zealand to 293-all out.
In their second innings, Rabada, who will soon be seen sporting the Punjab Kings jersey, left no stones unturned and took up batting responsibilities too. Coming in at number eight, he partnered with centurion Kyle Verreynne (136*) in a 78-run partnership, scoring a blazing 47 off just 34 deliveries. He sent away four fours and four sixes to the boundary enroute to this score.
While the pacer missed out on what could have been his first Test fifty, he still was the second-highest scorer for the Proteas in this innings, taking the team to 354/9d. Rabada finished that day by taking out the Kiwi opening pair once more, leaving them at 94/4.
At the end of Day 4, Rabada said, "There was a message (while batting with Verreynne) that we need to be positive. That's what I tried to do, luckily it went my way. I thought that I should carry on with the tempo, so I am not worried about personal milestones if the team is in a good position."
With one day to go, six wickets in hand and a mountain of 332 runs to conquer, New Zealand had to bat out three sessions to at least force a draw. However, Day 5 saw the South African bowlers dominating the field, despite a mature 92 from overnight batter Devon Conway.
Eventually, Rabada, Jansen and Keshav Maharaj had all pocketed three wickets each. Thanks to that splendid bowling performance, the visiting team managed a thumping 198-run win to salvage their innings defeat in the previous game.
This is Rabada's 11th five-wicket haul in his Test career, a format in which he has 243 wickets in 52 matches. His strike rate of 40.8 is currently the lowest among bowlers with 200 or more Test wickets.
The fans were in full praise of Rabada's all-round abilities and took to Twitter to express the same -
52 Tests
243 wickets
Average: 22.41
Strike rate: 40.7

Kagiso Rabada. 👏#NZvSA #NZvsSA pic.twitter.com/yEUL8JuXUa

— CricBlog ✍ (@cric_blog) March 1, 2022
🇿🇦🔥Kagiso Rabada yet again our best bowler this test with 8 wickets and scored the most runs 53 as a bowler (more than our all rounder) don't EVER tell me this man needs to be dropped or is only in the team because he is undroppable. He is a beast 🇿🇦🔥 #NZvSA pic.twitter.com/Kar1kdnxN7

— Gills (@gpricey23) March 1, 2022
Incredible fightback from SA to win the 2nd Test by 198 runs 👏

Series level 1-1

KG Rabada MoTM (5-60 & 3-46) - he's back!#NZvSA

— ThePoppingCrease (@PoppingCreaseSA) March 1, 2022
Hope Rabada doesn't forget to take out Tom Latham, and Will Young from his pocket. #NZvSA #BePartOfIt

— Hᴀɴᴅ ᴏғ ᴛʜᴇ Qᴜᴇᴇɴ® (@BabaloLubuzo) March 1, 2022
Most test wkts before turning 27. Kagiso Rabada 🔥 #NZvSA pic.twitter.com/QFpargMBB8

— Prithvi (@Puneite_) February 26, 2022
Kagiso Rabada's contribution to SA & world cricket is invaluable. The perfect example to any sports pro or aspiring sports pro about how actions speak louder than words #NZvsSA

— IG:dalinoliver (@DalinOliver) March 1, 2022
This win has given South Africa that push to sit at the fourth place of the World Test Championship table, having registered three wins and two losses and a win percentage of 60. The Proteas now travel to Bangladesh for their next Test expedition later in the month.