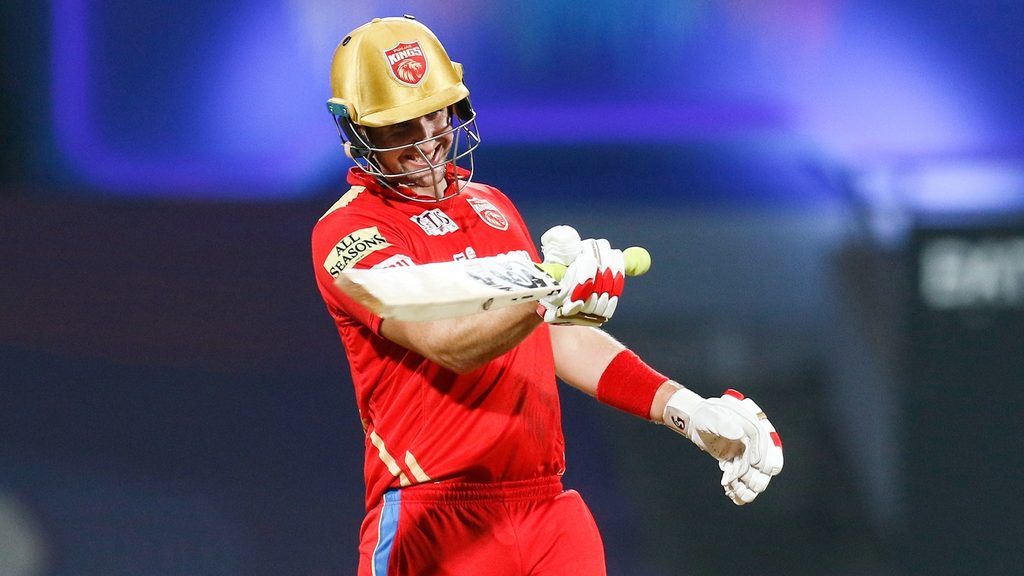 The Punjab Kings won their fifth game of the tournament and levelled the scores against Gujarat Titans at the DY Patil Stadium on Tuesday night. The eight-wicket win propelled the Kings to the fifth spot on the Tata IPL points table.
It was a great all-round show from the team, with Kagiso Rabada snatching four wickets (4/33), Shikhar Dhawan getting his third half-century of the season (62* off 53), Bhanuka Rajapaksa scoring an important 40 (28) and Liam Livingstone smashing a perfect cameo (30* off 10).
After the game, members of the team spoke about the win.
We're learning as we go: Liam Livingstone
Livingstone, whose impressive knock helped the Punjab Kings zoom to victory with a healthy net run rate boost, shared his thoughts on the game. "I didn't think I was going to bat at one point tonight so it was nice to go in and hit a few out of the middle. I thought Shikhar played beautifully to set it up, him and Bhanu in that partnership to set it up really nicely for us to come in and finish it off," the batter said with a smile.
"It's a big win. We needed it after some bad cricket over the last couple of games so it's nice to turn it around. I went up to Mayank and said, 'I fancy going in before you.' He said, 'You go in if Bhanu gets out,' and Mayank was going in if Shikhar got out. It's good. We know our roles. It helped to have Mayank in that middle so that if we do lose a couple of wickets, we had some stability," the Englishman further explained.
"It's a massive win and will lift the camp a lot. I think it's all about learning. It's very hard to just go and play the way we wanted to play. As a new team, to be really successful was going to be a big ask. I think we're learning as we go," Livingstone said.
We would like to string a few wins: Mayank Agarwal
Captain Mayank Agarwal spoke about the thought behind the change in the batting order. "We would like to string a few wins, no better time than (now for) getting a few wins back-to-back. We are trying to get the best out of Jonny. He's done well opening. I said, 'It's okay, I'll bat at four, I'll anchor the innings at four'," Agarwal explained.
He further clarified, "With Livi it was clear, Shikhar to bat through and Livi could go out and play the way he wants to play. It was nice the way he played, got the score quickly. When we got to that position, two points were almost clear. If we can score it as quickly as possible, we could also improve the Net Run-Rate."
He also had a few good takeaways from this commanding win. "I thought we bowled exceedingly well, we got early wickets and choked them in the middle. That really helped us to restrict them to a below-par score. The partnership between Shikhar and Bhanu was crucial for us."
You need to stick to your basics: Kagiso Rabada
Rabada, who earned the Player of the Match trophy for his four-wicket haul, was a happy man at the presentation ceremony. " Finally we got the win. After being a bit inconsistent, we just wanted to string a couple of wins under our belt. We bowled well to restrict them. Our batters did the job. As a team, we had a good outing," the pace spearhead said.
"You can't get too greedy, you need to stick to your basics, that's what I tried to do. Arshdeep's got a lot of nerve, he has shown that especially in the death overs. He reads the game well, he's able to execute his skill and he's done it game in and game out," he praised his colleague.
"He knows what he wants to work on, I am not saying too much to him. As a bowler, you have to bowl in all stages of the game. It's about figuring out how to be the most effective in each stage of the game," Rabada concluded.
This was one of the most comprehensive and satisfying wins the team has had in the recent past. With four more games to go, the Kings will look to win more on the trot and secure their playoffs position.