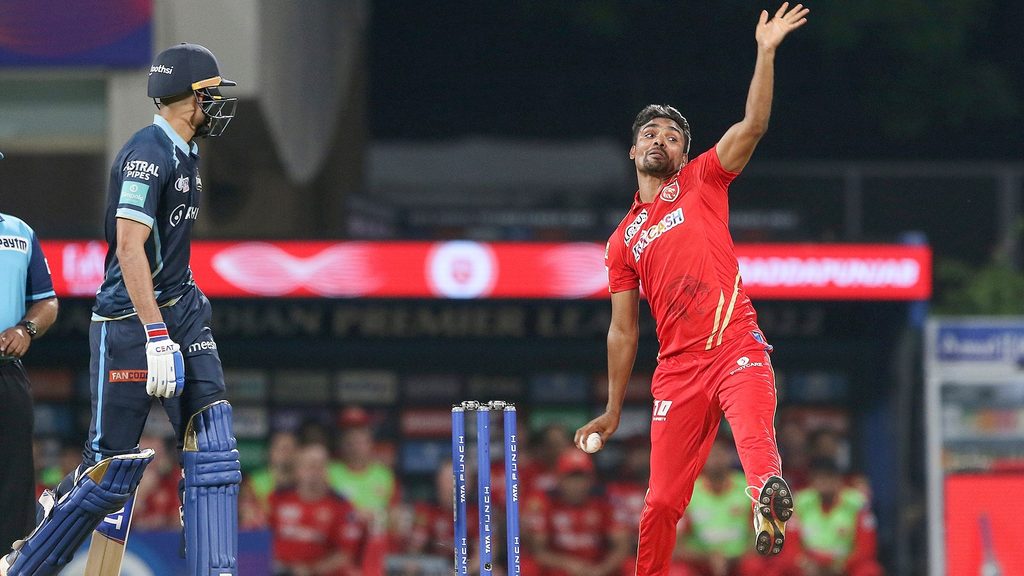 The Punjab Kings won their fifth game in the Tata Indian Premier League with an eight-wicket victory over table toppers Gujarat Titans on Tuesday night. The win put the team in fifth place on the points table with 10 points, putting it once again in contention for a playoffs spot.
The much-needed positive result was set up by Kagiso Rabada's 4/33 and powered by Shikhar Dhawan's 62* (53), Bhanuka Rajapaksa's 40 (28) and Liam Livingstone's 30* (10). It was truly an all-round effort from the Shers to chase down the Titans 143/8 and emerge victorious.
After the match, Sandeep Sharma took questions from the press. Below are excerpts from his interaction.
The crucial win and the way ahead
The right-arm pacer spoke about how the team was approaching the games at this crucial stage of the tournament. "Of course, every game is crucial. But what is important is to take it one match at a time, like this game. We prepared well mentally and came with a positive mindset," he said.
"It is important to carry this mindset into the next game and think only about it now. Whatever we are planning for the next match, our priority is to execute it correctly. Yes, we have a very good team. We lost two very close games. Had we turned it around, the points table would have looked different," Sharma said.
"Of course the unpredictable nature of the tournament is such that you have to account for losing and winning such close games. As a group, we've put the negatives behind us. We have four matches left and we are focussing on those, one-by-one," the seamer from Punjab said.
On Bairstow opening the batting
England batter Jonny Bairstow opened the game for the first time this season. "He has seen a lot of success as an opener in the IPL previously. So that was our mindset behind him going up the order and playing freely. Hopefully, he will open and do well in the upcoming games," Sharma said.
"Mayank, for instance, is an Indian batter who can play spinners really well. So, we decided he could come in the middle and take on the spinners better. This was the thought behind this move. We are always trying something new, if we find success in it at this stage of the tournament, it will be very beneficial to us," the PBKS pacer revealed.
On the tight bowling tonight
The PBKS bowlers put on a near-perfect show last night, restricting GT to 46/3 in the powerplay, just 62/3 by the midway mark and to 143/8 at the end of the innings. "We bowled really well tonight throughout. We have a lot of bowlers with experience in this league. We just wanted to execute our plans well. We wanted to stick to our plans even under pressure," Sharma said.
Sharma also spoke about the encouraging wicket. "The wicket also helped the cause today. It was a little sticky in the start, which helped the new ball move as per will. We discussed our plans with Anil Sir. We wanted to execute them well, and we are glad to have done so," Sharma said with a satisfied smile.
On Sandeep and Arshdeep bowling well but not getting wickets
Sandeep's two wickets and Arshdeep's four wickets in the Tata IPL so far hide the impact they've had with their economy to put batting sizes under serious pressure. Sharma spoke about navigating this circumstance.
"When we're younger, these things play on our minds. As we get experienced, we realise that bowling well is in our hands, taking wickets sometimes isn't. Sometimes even if we don't bowl well, we might end up with a wicket," Sharma said.
"Our focus is to bowl well. Sometimes, we have seasons when we just bowl and get lots of wickets, sometimes we do not. Either way, what is important is to bowl well for the cause of the team rather than getting frustrated about these numbers," he further elaborated.
We have played enough games to not get frustrated over wickets. To bowl well and have the team win means a lot more and is more satisfying than taking a bunch of wickets in a losing cause," the senior bowler shared.