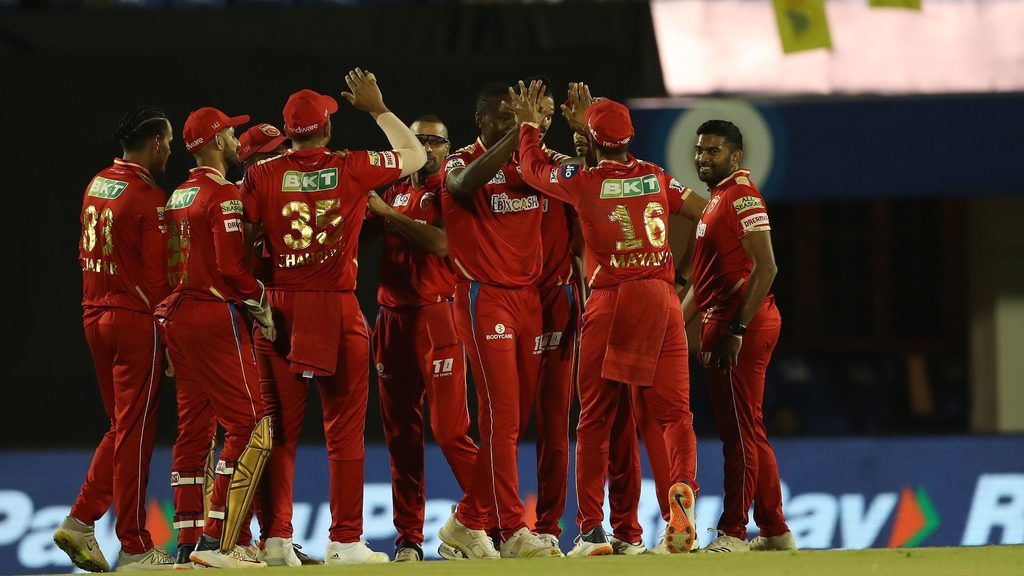 Two wins in three games. A commanding win over the defending champions. An all-round performance to remember. The Punjab Kings got a lot of things right in this game against the Chennai Super Kings, where they defeated the four-time champions by 54 runs, at Mumbai's Brabourne Stadium on Sunday night.
The boys sure had a memorable evening, with almost everybody contributing in their own way to hand CSK their third straight defeat in the Tata Indian Premier League 2022. Livingstone's 60 off 32 deliveries and his back-to-back scalps sure made it an extra special day for him on the field.
Post the game, members of the team talked about why they felt it panned out the way it did for the Punjab Kings. The debutants also had a field day, which will do a world of good to their confidence.
Vaibhav was troubling us in the nets: Shikhar Dhawan
Dhawan, who played second fiddle to Livingstone while he was on destruction mode, had words of praise not just for his batting partner, but also for Vaibhav Arora, the debutant who ensured PBKS defended their 180-run total with ease.
"It feels great, we made a great comeback," Dhawan said, referring to the various turning points in the game.
Dhawan also gave us a peek into the Vaibhav Arora they saw in the PBKS camp. "Arora was troubling us in the nets as well, that is why he got to make his debut today," Dhawan explained. "He bowled a good line and length, and used the pitch well." To be called a trouble by Dhawan, one of the best in the business, is a big honour in itself for the youngster, who closed his PBKS debut with numbers 4-0-21-2.
The captain's words
Captain Mayank Agarwal was a happy man with this all-round show from his team and a massive 54-run win against CSK. He opened up about the few anxious moments the team had in the game. "We were thinking we were 5-7 short, but we knew chasing 180 wasn't going to be easy, especially if we took wickets with the new ball and that's exactly what we did. Winning that part of the game won us the game," Agarwal said.
He spoke highly of Livingstone, the star of the game. "Everyone holds their breath when he is batting. Some of the shots he hits are spectacular," the captain reiterated.
As the leader of the unit, he too had some words of appreciation for young Arora and fellow debutant Jitesh Sharma, who also made quite an impact with his 17-ball 26 and two catches behind the wicket, the second one sealed with a well-judged referral. "Vaibhav was with us a couple of years back , we saw the talent there. He's different, he's young and has got some good skills," Agarwal said about the pacer.
He also spoke about how Sharma happened to join the team. "With Jitesh, Anil bhai had seen him when he was in MI. He said we've got to get this kid. He's got good intent. Standout thing about him is his attitude. You can see the hunger, you can see the want. Definitely looking to play hard and positive cricket. Have to be emotionally intelligent when it doesn't come off," the captain elaborated.
The man with the Midas touch - Liam Livingstone
After two personally disappointing matches, it seemed like Liam Livingstone could do no wrong on this Sunday night in the game against the Chennai Super Kings. "The first two games hadn't gone my way. Good to contribute to a win," a satisfied Livingstone said in the post-match presentation.
He spoke about what the team did that earned them a deserving win. "We got to a target which we thought was defendable and our seam bowlers were outstanding in the powerplay. Got to try and be as smart as we can."
He also spoke about finally being able to free his arms and go big tonight, on an occasion when it mattered a lot. "All our conversations have been 'try and be as exciting as we can'. Nice to get a few today. I've been swinging hard enough, nice to get a couple off the middle today. Nice to have a performance like this," the English batter said.
He also elaborated on his love for bowling. "Bowling is something I really enjoy. Something I've spent a lot of time on. Been nice to contribute. Hopefully as the tournament goes on, my spin comes into play," Livingstone said. " I also bat in the nets with Odean Smith, he's got me covered by a long way, trust me. I'm sure he'll get going at some point and you'll see why," the Player of the Match further added.
With this win, the team finishes an exciting week of cricket and will have a four-day break before taking on the new team, Gujarat Titans, on Friday at the Brabourne Stadium.