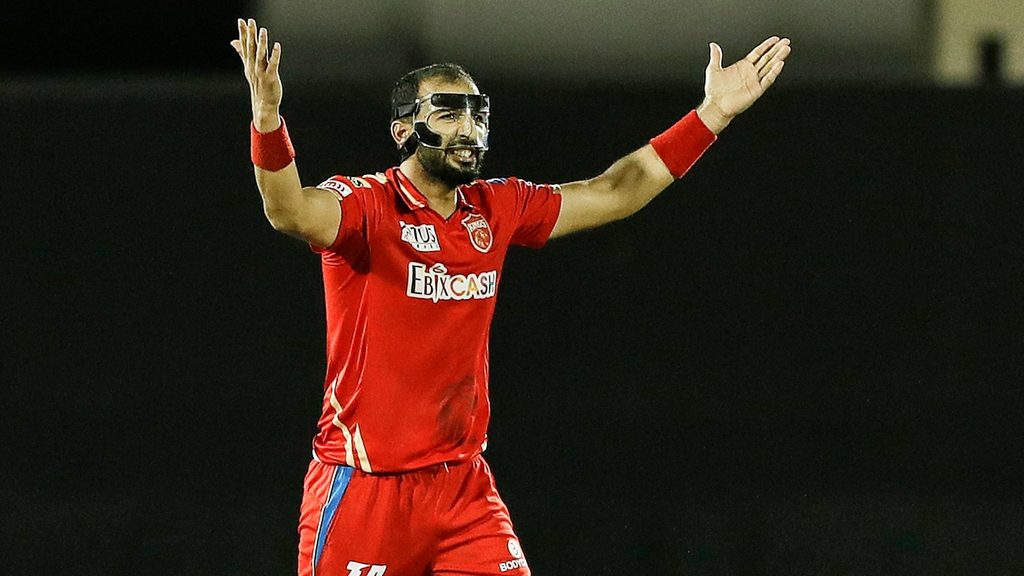 He came into the attack, masked and mysterious, and got the desired effect not just on the field but also off of it. While he helped the team snatch an 11-run win against the Chennai Super Kings at the Wankhede, he also grabbed eyeballs for wearing a unique mask to shield his face.
That was Rishi Dhawan's comeback into the Indian Premier League after a four-year break garnered a lot of attention for his face guard. Even in the previous game against RCB, he was instrumental in causing damage to the top order, accounting for Faf du Plessis and Mahipal Lomror before they could get going to restrict the team's powerplay score to 44/3.
However, his participation in this year's Tata IPL was a big question mark despite him being picked as a part of the team in the mega auction earlier this year. His injury threatened to take away an opportunity he had bagged after four years in this tournament after tasting sufficient success in the Vijay Hazare Trophy.
Rishi Dhawan's contribution was instrumental in getting Himachal Pradesh its first ever domestic silverware. He scored 42* (23) and finished with bowling figures 10-0-62-3 in their historic Vijay Hazare final. However, as he carried this good form to the Ranji Trophy next, he was struck by a ball that left him worried about possibly losing his good form from not being able to play cricket.
The injury
Dhawan sustained fractures in three of his cheekbones after a missed caught and bowled opportunity in the Ranji Trophy. "It was a caught and bowled chance, and I failed to react quickly, and the ball went between my palms and hit my face. There were three cracks in my cheekbones, and it got dislocated. I had to go through the surgery. It happened on February 25, and the surgery took place on March 2," Dhawan told the Indian Express.
About his unusual safety gear, he said, "It became a talking point. I missed the earlier games as the bones hadn't healed properly. I will be playing with the faceguard for five-six months till the bones are fixed, and the swelling comes down. I thought I wouldn't be able to play in the IPL, but doctors suggested that I can play with the face shield."
In an exclusive interview with the Punjab Kings, he threw light on his initial unavailability for games in the Tata IPL.
What's more dangerous than a lion? 𝘼 𝙝𝙪𝙣𝙜𝙧𝙮 𝙡𝙞𝙤𝙣. #SherSquad, tune in to this video to find out the reason behind @rishid100's initial absence & how he is all set for a roaring comeback now 👊#SaddaPunjab #PunjabKings #IPL2022 #ਸਾਡਾਪੰਜਾਬ #RishiDhawan pic.twitter.com/mnKKULSSrz

— Punjab Kings (@PunjabKingsIPL) April 24, 2022
The fear
"I was making my comeback after four years. So it was a little disappointing when I got injured in the Ranji Trophy. I had to go through surgery, which ruled me out of the first four matches," the all-rounder had said.
Doctors had also said that he might have to take a year off from cricket. "This year, when I was finally picked, I got injured. I thought this is it, I might not get a chance to play in the IPL again. There was a storm going inside my head. But thankfully, everything worked out. I was able to make a comeback. The nerves are settled now," he reportedly said.
However, the fear of being hit hard on his face dissolved after facing big hitters in the nets. He worked his way up his confidence level, starting with bowling to a stump and then moving on to the batters.
"I started bowling only when my face shield arrived. I only used to bowl at a single stump in the nets. Once I got the confidence back then, I started bowling to the batters in the nets. There is no fear as such, but in cricket, anything can happen. I hope it is just a one-off freak injury," Dhawan told.
The comeback
Despite PBKS batting first, Dhawan did not have to take the field. He began his comeback with a well-bowled seven-run over in the powerplay as CSK were restricted to 32/2 while chasing down PBKS' 187/4.
Then at the death, he was given the responsibility of defending 27 runs off the final over against MS Dhoni, one of the best finishers cricket has seen.
Post the game, when asked if he was nervous bowling that last over, Dhawan told PBKS, "Your heart will obviously be racing when Mahi Bhai is in front of you, but it went alright. We had a lot of runs to defend. I knew that if I bowled two good balls, we could win the match easily."
"The whole crowd was with him. Even though the first ball was hit for a six, I was confident enough to make a comeback," the right-hand pacer recounted.
Currently, the 32-year-old has six wickets in five games. More importantly, he has claimed big wickets - Shivam Dube, MS Dhoni, Hardik Pandya, Sanju Samson, Faf du Plessis and Mahipal Lomror - in the five games that he has played.
Dhawan has been impactful with quality performances to restrict the flow of runs whenever needed. A comeback after a 5 year break from IPL cannot be easy, and to be doing it while still recovering from an injury to the face is no small deal. With two more games to go before the playoffs, the team will need him to put his best foot forward.
Dhawan himself believes his performances here could give him a second shot at international cricket and the desire is intense even if at 32, time is not on his side. "After playing in the IPL for four years and making my India debut, I was dropped. No one picked me for five years. My performances at the domestic level were not getting noticed. It was disheartening that I was not getting opportunities despite performing well." he had said in his interview to the Indian Express. He feels he can improve on his first stint with the maturity and wisdom he has now.
Sher Squad, watch out. Rishi Dhawan is out hunting and prowling.