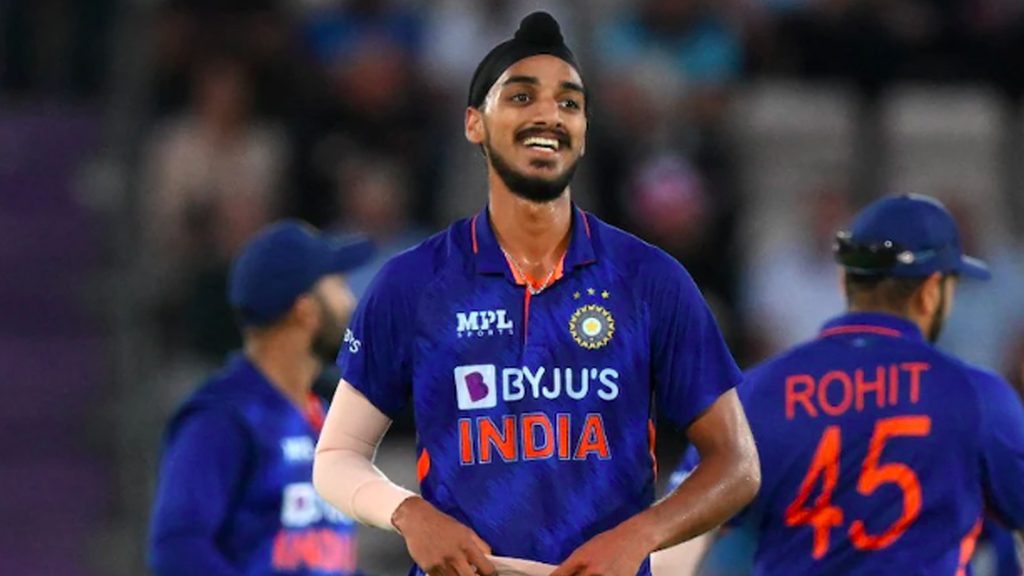 It was a "multiverse of madness" moment at St Kitts, during the 2nd T20I between India and West Indies, when not one but three jerseys with "Arshdeep" written on them made an appearance on the field. It all started with the start of the match being delayed by 90 minutes due to some logistical issues that caused Team India's kits to arrive late. As a result, Suryakumar Yadav was seen to open for India wearing Arshdeep's jersey, leaving fans flabbergasted for a wild second.
But there were more things striking about Arshdeep in that match and the series so far. In all three matches, including the 2nd T20I, the Punjab Kings pacer was able to bring in wickets for India in the death overs. He even took the wicket of Rovman Powell, one of West Indies' rising finishers, twice in three games. Slowly but quite steadily, the 23-year-old is cementing his place in the side as a death-overs specialist.
Renowned journalist Harsha Bhogle was all praises for our young star after the 3rd T20I, which India won by 7 wickets to take a 2-1 series lead. "Arshdeep Singh is currently passing every exam Rohit is asking him to appear for. He bowled over no 6 and then three on the trot at the death. 1-33 from 4 overs is excellent when you are bowling all the difficult overs," Bhogle tweeted.
Many other cricket experts have also been impressed by the amount of pressure his young shoulders are able to pick up. Former Team India chief selector Krishnamachari Srikkanth believes he can be the number one bowler in T20Is in the future.
"He will be the future world no.1 in T20Is. He is simply outstanding. Arshdeep Singh! Make a note of it. He will be in the T20 World Cup team. Come on Chetu, please take his name also," Srikkanth said ahead of the 3rd T20I.
So far in his nascent T20I career of just 4 matches, Arshdeep has accumulated 6 wickets to his name, averaging 16.83 with the ball and a strike rate of 15.5 with an impressive economy rate of 6.51. This is following two successful IPL seasons with Punjab Kings. With his form, the time isn't far away when the selectors turn to him in ODIs as well. It's not long before we see Arshdeep emerging as a limited-overs mainstay.