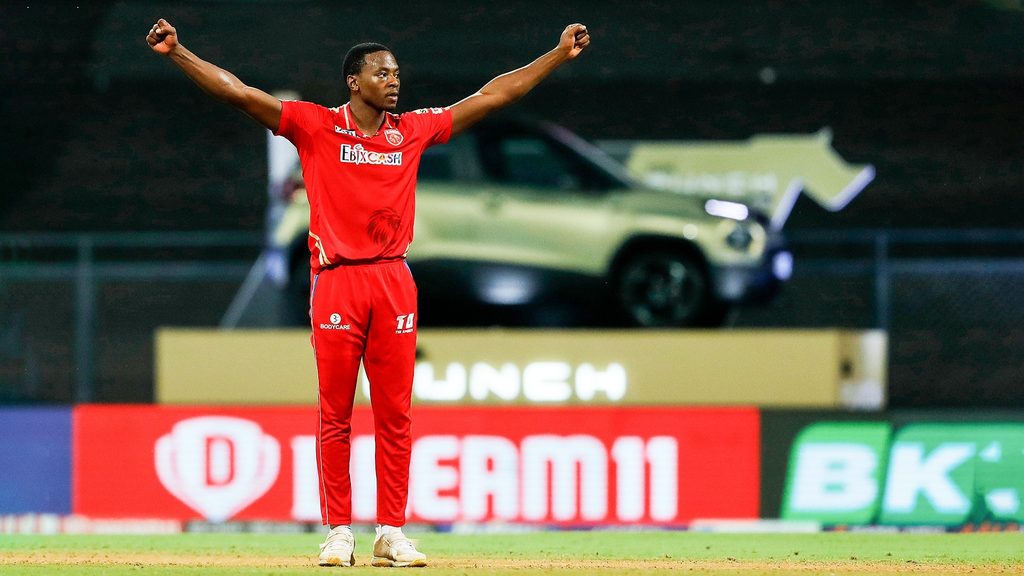 The Punjab Kings posted a thrilling 11-run win in a see-sawing game to complete the double against a spirited Chennai Super Kings in the Tata Indian Premier League 2022. The team scored 187/4 riding on Shikhar Dhawan's 88* (59) and successfully defended it with brilliant bowling from Arshdeep Singh (4-0-23-1) and Kagiso Rabada (4-0-23-2).
Post the exhilarating match, some of the PBKS players spoke about their approach during the game, how the team performed as a unit and much more.
I think Arsh has been the best death bowler in the camp: Kagiso Rabada
Rabada opened up about the way PBKS began the game and later, the nerves in the bowling department. "In the Powerplay, we were a bit behind the rate, but I must commend Shikhar and Mayank the way they held their nerve, and then the way Shikhar and Bhanu played was just unbelievable," the South African pacer said.
He further added, "They set the platform for our batters to come in and play freely and then Liam Livingstone came in and hit a few gentle strokes out of the park and that set us up nicely. We got ourselves a winning total and I thought each and every individual in our bowling attack put their hand up."
Rabada also spoke very highly on the young talent in the camp. "I think Arsh has been the best death bowler in this comp. That's what the stats say. He's a youngster coming in. He's got a lot of drive, a lot of ambition and he's got talent as well. And he's just a good bloke. So it's nice to have him around."
"I've always bowled at the death as well so I know I'm going to bowl at the death but Arsh has just been magnificent and been leading the way in that discipline. Everyone else knows their role," he said. For young Arshdeep, hearing this from a death over specialist like Rabada must be a moment of pride!
He also laid down the roles of others in the team and how everyone brought something to the table today. "Spinners bowl when they have to. Rahul is a key spinner for us. Sandeep has a lot of experience and he's come in today and got a wicket in the Powerplay. Rishi coming back and bowling that final over, he put his hand up," Rabada explained.
He elaborated on the last-over nerves and bowling to MS Dhoni. "It's still a bit nerve-wracking when you're bowling at MS Dhoni and there's not one red shirt in the crowd, only yellow shirts chanting his name. I think it can be a bit nerve-wracking but he held his nerve and came out on top. So huge credit to him."
It is important to carry momentum: Mayank Agarwal
Captain Mayank Agarwal shared his thoughts about the game on Monday night. "We would like to win a few tosses, we have just won one. I thought Arsh bowled exceedingly well, he has bowled the tough overs, he has been great for us. Even Rabada bowled well, to get Ruturaj and get Rayudu at that stage. These two have been great for us," he opined.
He then spoke of keeping the big picture in mind and winning more games on the trot. "As a team we have to think about being smart. You want your opposition to play towards the longer side as much as they can. As a batter even if you mishit the balls, you'll get the result against the shorter boundary. Those moments get the better out of you. It is important to carry the momentum. We have won one, but we need to win two or three on the bounce."
It's about putting pressure and getting those boundaries: Shikhar Dhawan
Dhawan had a field day, helping the team bag two crucial points at Wankhede. He spoke of his performance, his interactions with peers and youngsters, and more. "The process, I always talk about it, I focus on it. About my fitness, my approach - I keep working on those skills. Results will take care of itself," he confidently said.
He spoke of the wicket and the plan on the field. "The wicket was stopping a bit, I tried to go for the big shots, but I couldn't connect. But I kept my calm. Once I get set, I can get those boundaries, that's what I bank on. While batting first it's about putting pressure on the bowlers and getting boundaries. We don't have to lose too many wickets, that was our conscious effort," Dhawan said.
He further added about his interaction with the PBKS camp. "I have become a senior in the team (laughs), I give a lot of input to the players and my captain, on the field. The youngsters think a lot, sometimes they overthink, so I try to communicate with them. I talk about the law of attraction and how to achieve big in life," he concluded.
It was a big win for the Punjab Kings in terms of how important these two points were at this crucial stage in the tournament. Full of hope, the team will next meet Lucknow Super Giants on April 29 after a three-day break.