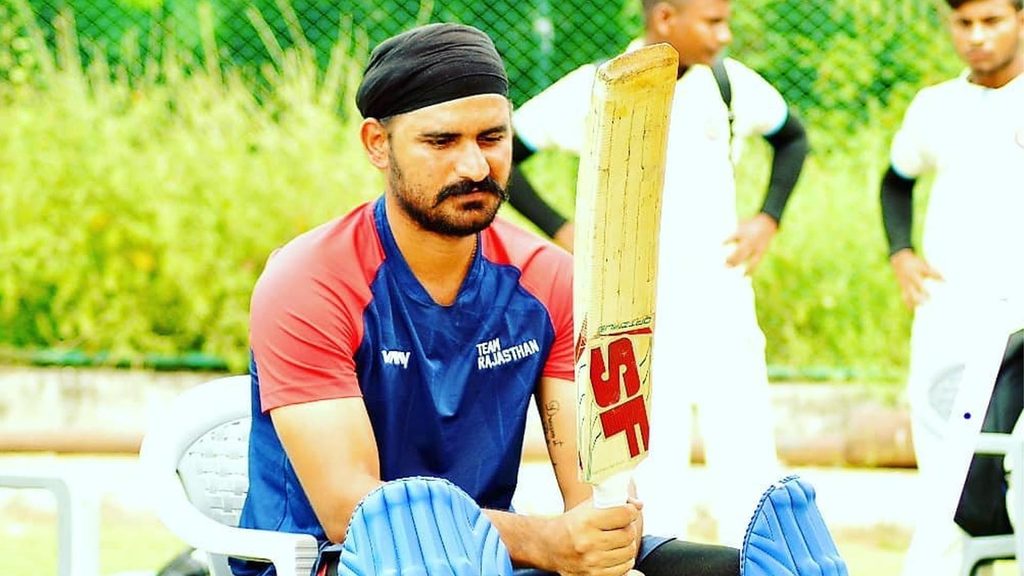 Not many professional cricketers have the good fortune of being congratulated by Sachin Tendulkar, or smashing former Indian Test bowlers all over the park in a franchise game. Kings XI Punjab's new recruit Tajinder Singh, however, has checked off both those achievements from his bucket list.
"There used to be this tournament called RCL, Rajasthan Cricket League, for all domestic players from the state. In that competition, I hit 52 runs off just 10 balls against former India International Pankaj Singh," revealed Tajinder Singh in an exclusive interview with KXIP.in.
Tajinder scored the fastest fifty of the tournament in that game, and that knock helped the all-round get back in the cricketing limelight, getting into Rajasthan's limited-overs squad and earning a VIVO IPL contract with Mumbai Indians in 2018. But the path to success was beset with difficulties for the lanky batting all-rounder.
"In an U-16 district competition, I scored 264 runs and picked up 11 wickets for my local team Dholpur. But unfortunately I couldn't get my break in the Rajasthan team. Even at the U-19 level I performed well but again missed out on the state selection," said Tajinder.
Coming from a modest background, the continued rejections from the selectors made it hard for Tajinder to prolong his sporting career, as his father insisted that he relinquish cricket and pick up a full-time job.
"My father had a truck and transport business and he suffered huge losses a few years back. So after I turned 18, my father told me to take up a job and support the family financially since I had not played any state level cricket back then," revealed the all-rounder.
Family support
Despite the family pressure, Tajinder always knew he could succeed as a cricketer, asking his elder sisters to convince their parents and allow him two more years to break into the Rajasthan team.
View this post on Instagram
"My sisters have really supported me during those times of struggle. Both of them became school teachers and also took tuitions at home to take the financial burden off me. They told me to keep my focus only towards cricket," Tajinder while going on to add, "I also played a lot of local tournaments then and whatever prize money I got through that I used to get it back home."
The all-rounder also reserves credit for SR Sports- a sports goods manufacturing company based out of Meerut that has been sponsoring him for the better part of the last decade. "My coach's friend owns this company (SR Sports). Since the time I was 19 years old till when I got my first IPL contract, they sponsored all my cricket equipment," reveals Tajinder.
The sponsorships and family support helped Tajinder extend his cricket career, but even in his early twenties a call from Rajasthan's selectors seemed elusive. The all-rounder therefore had to carve out a place for himself, and made the selectors take notice by smashing Pankaj Singh all over the park when an opportunity presented itself in the RCL in 2016.
Game changing knock
"I scored seven sixes and two fours off Pankaj Singh's bowling in that match, and ended up scoring a match-winning 69 runs off 21 balls. After that knock, people started recognizing me as an all-rounder for T20 games, because I had good performances with the ball as well.
"That same year I got a chance to play for Rajasthan in T20's, and in my debut game against Madhya Pradesh I managed to pick up four wickets," said Tajinder. The 27-year-old has been a constant feature for Rajasthan in the limited-overs format since then, playing in 16 List A and 21 T20 games, all thanks to that "game changing innings."