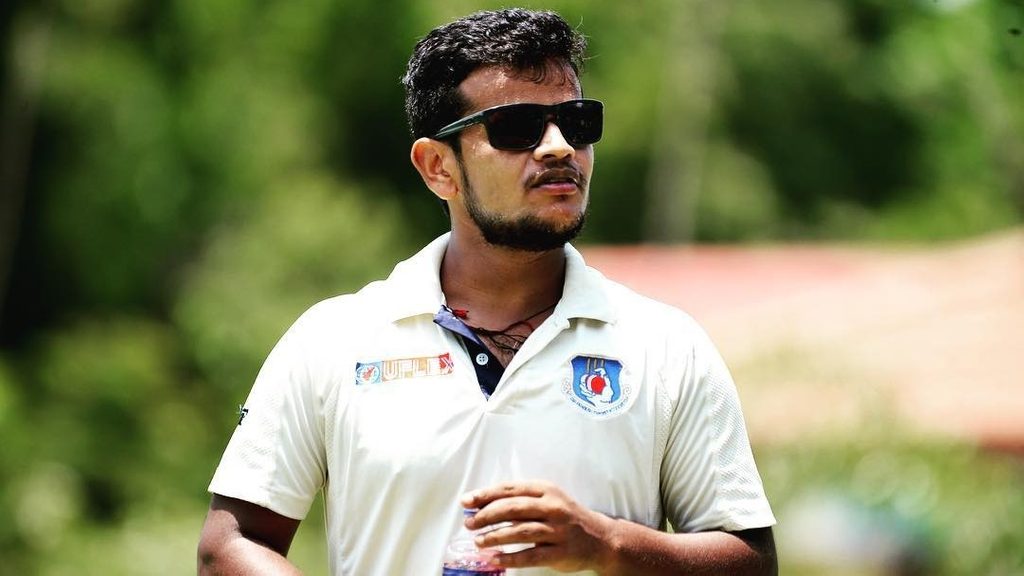 He may be amongst the country's most revered domestic bowlers now, but Saurabh Kumar's journey to this point has been one of steely determination and perseverance. A journey that had its fair share of speed bumps along the way, which were expertly maneuvered thanks to Saurabh's never say die attitude.
Hailing from the small town of Baraut in Uttar Pradesh, Saurabh was smitten by the cricket bug early on with most in his social circles big fans of the game. However, with limited avenues for honing his skills in his hometown, he had to travel all the way to Delhi for practice even before he had entered his teens.
Family support
"My father used to be a good kabaddi player in our village, but he did not have the best of facilities back then to take up the sport full-time. So he made it a point to do his best to support me in my sports journey," explains Saurabh in an exclusive interview with Punjab Kings.
So when Saurabh made that decision to travel to Delhi for cricket practice, his father and other family members were his biggest supporters. "My practice used to start at three in the afternoon, so I had to take a passenger train from Baraut to Delhi, then catch a bus from there to the National Stadium, and repeat the same routine in the evening to get back home.
"The first few years my father also used to make that journey with me, accompanying me. Even my mother has sacrificed a lot during those times, getting up early to prepare and pack my tiffins," explained Saurabh.
"Had my family not supported me, I don't think I'd had ever been able to play at this level, I'd have ended up playing in my village," he added.
The collective efforts of the family bore fruit, as Saurabh impressed all with his left-arm spin in Delhi, becoming the lynchpin for the team at various club level tournaments. However, he still couldn't quite get a foot in the door back in his native state of Uttar Pradesh.
Services sojourn
"The Uttar Pradesh team was stacked with spinners with Piyush Chawla, Praveen Gupta, Ali Murtaza and Kuldeep (Yadav) all in the team. So initially I wasn't getting a chance in the senior team," started off Saurabh Kumar.
"So I took up a job in the Indian Air Force so that I could be eligible to play for Services so that I could play the Ranji Trophy. That one season was a little difficult for me because there is limited scope for sports in a team like that.
Services players weren't allowed to play in the IPL and a few other tournaments, so we ended up playing amongst ourselves only for a major chunk of the cricket season," he added.
Despite the limitations, Saurabh proved his credentials at the Ranji stage, ending the season as Services' second-highest wicket-taker with 17 scalps to his name. The southpaw contributed with bat as well, scoring 304 runs in seven games.
An impressive debut season in the Ranji Trophy made the Uttar Pradesh team management stand up and take notice, as Saurabh was offered a place in the team for the forthcoming domestic season. And the youngster humbly accepted, bagging a ten-wicket haul on his Ranji debut for Uttar Pradesh.
IPL Setback
View this post on Instagram
The left-arm spinner soon also bagged his maiden IPL contract, as he was picked by the Rising Pune SuperGiants for the 2017 season. However, with many spinners like Washington Sundar, Imran Tahir and Rahul Chahar already in the roster, Saurabh had to be content with a place on the bench for the entirety of that season, following which he couldn't get another IPL contract till 2021.
"It was tough initially but I'm not the type of person who takes things negatively. My love is with cricket, so it doesn't matter if I'm playing First Class Cricket, Ranji Trophy or any other tournament. With respect to playing the IPL again, I was confident I will get an opportunity if I keep performing, I just need to wait for my chance," explained Saurabh Kumar.
Following the IPL setback, the left-arm spinner broke open the door with consistent performances in the Ranji Trophy. Saurabh has been the leading wicket-taker for Uttar Pradesh for three consecutive seasons, picking in excess of 50 wickets in his last two campaigns. More recently, he was also picked as a net bowler for India's Test team for their home series against England.
Having rubbed shoulders with some of the best in the country and steady performances in the domestic circuit, Saurabh Kumar would be all set to take his game to the next level when the VIVO Indian Premier League commences a few weeks from now.