"I did not have a bat sponsor, so Tim Paine had a go at me and asked his team, 'How much do you reckon he's worth?'"
The lack of a sticker on debutant Mayank Agarwal's bat was quite noticeable during India's recent tour of Australia but what stood out in the series was how often the ball came off the middle of the opener's willow.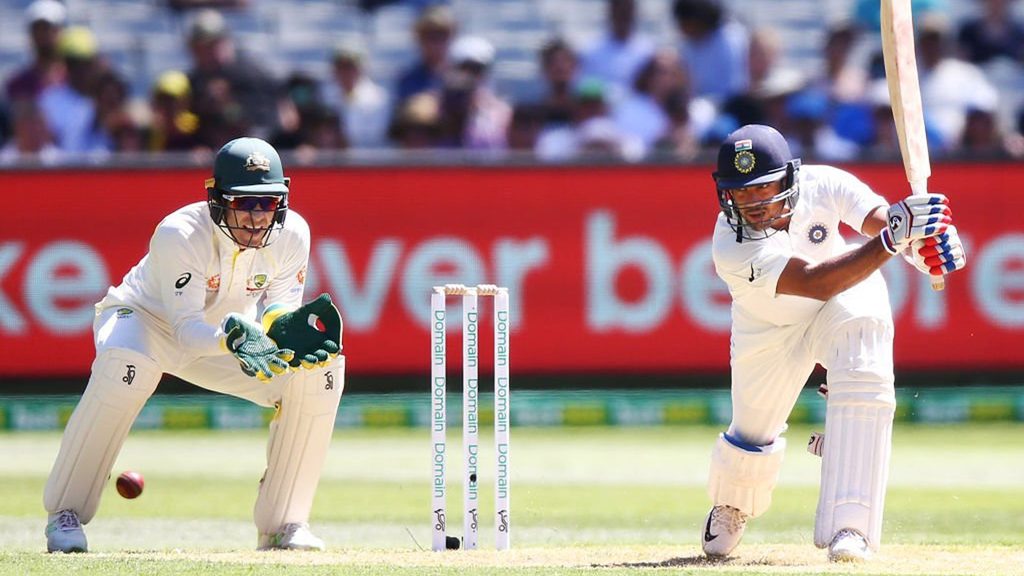 The Australians have subjected many greats of the game to their infamous sledging and India's newest Test sensation also had a similar experience.
"I did get a few comments coming my way when I was batting," Agarwal told kxip.in. "There were no abuses. Just some friendly banter.
"Aaron Finch was one of them. Off the field, we are good friends. We've played together for Kings XI Punjab. So, it was just light banter."
Despite all the chatter directed towards him, Agarwal was laser-focused out in the centre, scoring a brilliant half century in his maiden international innings and followed it up with a resilient 42 in the second innings in challenging batting circumstances, helping India post a huge total and take a 2-1 lead in the Test series.
Melbourne nightlife
Agarwal's resilience on debut with the bat forced Finch's hand to present the opener with a tantalizing prospect.
"In the second innings at the MCG, I was batting close to end of day's play and Finch came up to and said, 'Listen, Mayank. Melbourne's got a great night life, good place to party. If you get out now, you could do that.'"
While Finch's quirky advice was definitely one to consider, Agarwal's reply was as assured and stern as his defence.
"Listen Aaron, I'm married."
Agarwal carried his strong start in the final Test match of the series at the Sydney Cricket Ground and delivered another masterclass at the top of the order, scoring a stylish 77, taking the Australian verbal and bowling attack heads on, helping the team pile up a massive total which the Aussies couldn't respond to.
Despite batting only thrice in the entire series, Agarwal finished as India's fourth highest scorer while boasting of the second-best average of any batsman for either side. Despite Finch and Paine's banter, it was Agarwal who had the last laugh as his exploits Down Under not only earned him a bat sponsor but also a permanent spot at the top of the Indian batting lineup.